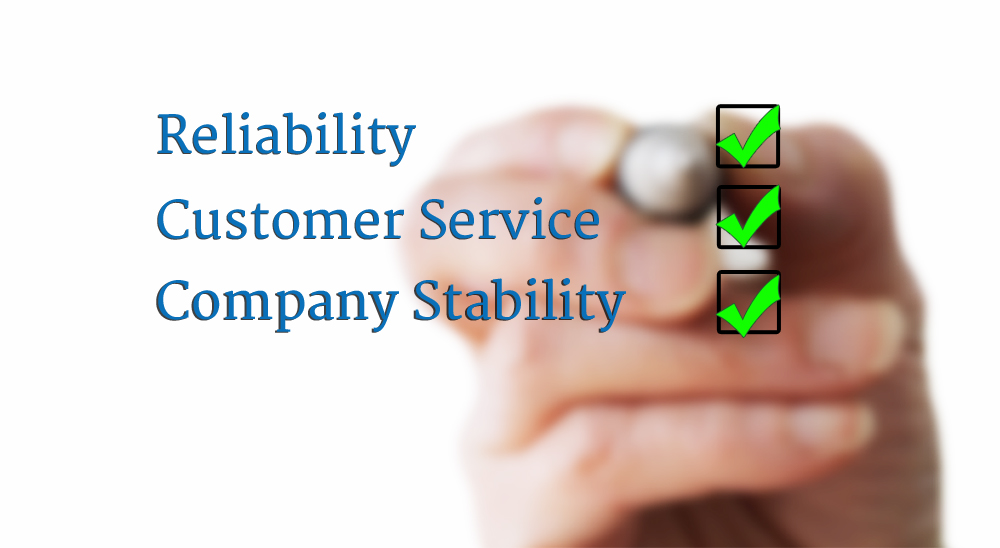 How to choose the right web hosting package for my website and which company should I go for?
Getting the right web hosting service could affect your website performance. A lengthy downtime or a slow performing website could impact your sales and profit if your business depends on your website. Picking the right hosting service is essential for the overall success of your website but with the sheer number of hosting companies can make selecting difficult. For instance how do you know who will provide the best service, reliability and pricing? Like buying a car, you need to find out the facts, check reviews, make inquiries and most importantly test drive the thing yourself. The following are our top five factors or checklist of questions to bear in mind. We hope you'll find them useful and if you have any questions to ask  please don't hesitate to drop us a line or leave a comment at the end of the post and we'll try and help you.
1. What's the reliability –  close to 100% Uptime?
In an ideal world, a 100% uptime would certainly be ideal! You pay for your hosting so you would expect your website to function round the clock without failing. Unfortunately, the reality is a bit disappointing — a 100% uptime cannot be expected even from big providers such as GoDaddy. There's no such thing as 100% uptime as physical things get broken, it's just a matter of time. Servers need rebooting occasionally and also have to undergo preventative maintenance and this constitute some of the downtime. A good web hosting company maintains their servers so that they minimize unscheduled downtime. They should have the expertise and experience to quickly fix server issues. It is a worthwhile exercise calling companies and asking them to provide information of their last 3 to 5 years' uptime performance. If they can't back track that far, ask them for the most recent statistics. You can tell quite a lot from what they report. If they say they guarantee you 100% uptime, you should be weary. Uptime guarantee in our opinion is a waste of time. Companies guaranteeing if they fail to meet the target they would give your money back – say a month's worth of hosting which is typically less than $20/month for an average standard package. In that few hours that your website has gone down could cost you hundreds and thousands of dollars. In other words, it's practically a useless guarantee statement that you shouldn't buy into. You  should focus your energy into pursuing finding companies with 99.9% uptime track record. A company that works towards that goal shows commitment to quality and world class service.
The following shows how much time your website will potentially be offline if servers go down assuming full time operation of 8766 hours in a year:
| | | |
| --- | --- | --- |
| Uptime | Downtime | Hours Offline / Year |
| 90% | 10% | 876.6 |
| 99.9% | 0.10% | 8 |
| 99.99% | 0.10% | 0.9 |
2. Do they provide 24/7 Technical and Help Desk Support?
Having 24/7 support that you can reach by phone is an enormous asset that leaves you with a peace of mind. Not all hosting companies provide access by a simple dial of number. In some cases you would have to submit help desk tickets and the response time may take as long as 24 hours (or more) to get back. We have come across reviews of people complaining of the inability to reach their web hosts when their sites are down for whatever reason. Weekends are long and if a web host only provides weekday support, that's something you have to know. Making phone calls to the technical department (think of some technical questions you might like to ask) and testing out their response time and how they answer your questions gives you a idea of their service department.
3. Is the web hosting company stable and how long has it been around?
Choosing a company that has been around for sometime with a good reputation and track record is essential for the smooth running of your website. As a precaution, always store a copy of your website on disc or on your computer. Should you ever need to move hosting company, you can readily transfer your website.
4. Check the Web Hosting Pricing Vs Features
With the number of hosting companies competing with each other, prices for hosting have become very compatible. You could easily get a reasonable standard hosting package for around $3 to $4 per month if you don't expect a large amount of visitors and no online transaction being made. Remember what you pay for is what you get. For much cheaper packages you may be restricted in the number of websites you can build or not have as much bandwidth for your visitors each month.
5. What about Email capabilities, Scalability, cPanel & SSL connection?
Availbility to set up different email accounts for a business is essential.
The ability to scale up your hosting package for when your business expands is essential.
If you are managing and designing your own website, having a cPanel makes all the difference.
If you are running an e-commerce website or you require data security when visitors submit information through a web form, the information should be encrypted. SSL – Secure Sockets Layer – is used for protecting data that's sent between a website and a web browser by encrypting the data.